India 3rd topmost country with maximum vaccinations; more than 58 lakh beneficiaries vaccinated against COVID19
In a significant achievement, India has been recording less than 150 daily deaths continuously for the last 10 days. Only 84 deaths were reported in the last 24 hours.
The effective strategy of containment including prompt tracing & tracking, aggressive and widespread testing, combined with standardized clinical management protocols have ensured the low mortality levels, in addition to consistent low daily positive cases.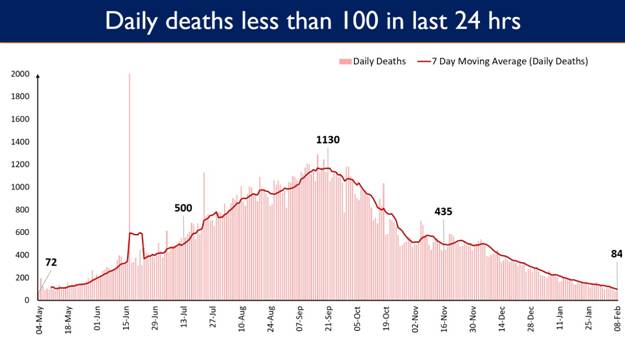 As part of the COVID management and response policy, there has been a sharp focus of the Central Government on not only containing the COVID related fatality, but to reduce deaths and to save lives by providing quality clinical care to the critical and severe patients of COVID.
Collaborative efforts of the Union and State/UT governments have resulted in reducing the case fatality level substantially.
17 States/UTshavenot reported any deathsin the last 24 hours.These are A&N Islands, D&D & D&N, Arunachal Pradesh, Tripura, Mizoram, Nagaland, Lakshadweep, Ladakh (UT), Sikkim, Rajasthan, Meghalaya, Madhya Pradesh, J&K, Puducherry, Andhra Pradesh, Odisha and Assam.
The country's active cases decline further to 1,48,609in the last 24 hours.The active cases of the country now comprise just1.37%of the total positive cases.
11,831 new confirmed cases were recorded in the last 24 hours in the country. 11,904 new recoveries were registered in the same period.
5 States account for 81% of the total active caseload of the country. Two States, Kerala and Maharashtra cumulatively account for 70% of the total active cases of India.