India sees record 1.26 lakh new Covid-19 cases in 24 hours
India's daily new cases continue to rise. 1,26,789 new cases were registered in the last 24 hours.
Ten States including Maharashtra, Chhattisgarh, Karnataka, Uttar Pradesh, Delhi, Madhya Pradesh, Tamil Nadu, Gujarat, Keralaand Punjab have shown a rise in the COVID daily new cases. 84.21% of the new cases are reported from these 10 states.
Maharashtra has reported the highest daily new cases at 59,907. It is followed by Chhattisgarh with 10,310 while Karnataka reported 6,976 new cases.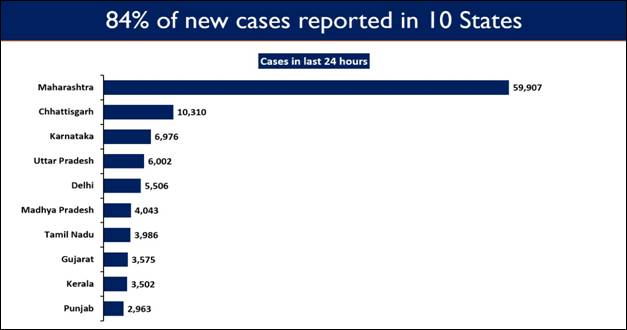 Twelve States, as shown under, are displaying an upward trajectory in daily new cases.