235 NEW COVID CASES, 08 DEATHS IN LAST 24 HOURS IN TRIPURA
Agartala, 7 June : 235 more test positive in Tripura today.
According to the daily Media Bulletin Out of 8827 samples tested for COVID-19, 235 people found POSITIVE.
595 patients have recovered from Covid 19 today.
08 dead reported in last 24 hours in Tripura due to Covid-19.
India has reported 1,00,636 New Cases in the last 24 hours. This is the lowest in the last two months.The country has recorded less than 2 lakh Daily New Cases for 11 continuous days now. This is a result of collaborative and sustained efforts by the Centre and States/UTs following the "whole of Government" approach.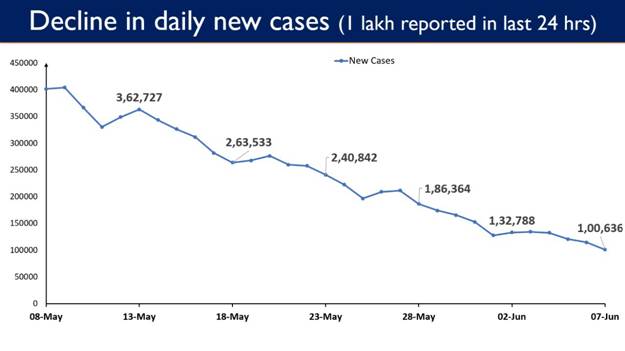 India has been witnessing a continuous fall in the active cases.The country's Active Caseload continues to be below 15 lakh mark for the second day now;stands at 14,01,609 today. The Caseload is below 20 lakhs for seven successive days.
A net decline of 76,190is witnessed in the last 24 hours and active cases are now only4.85%of the country's total Positive Cases.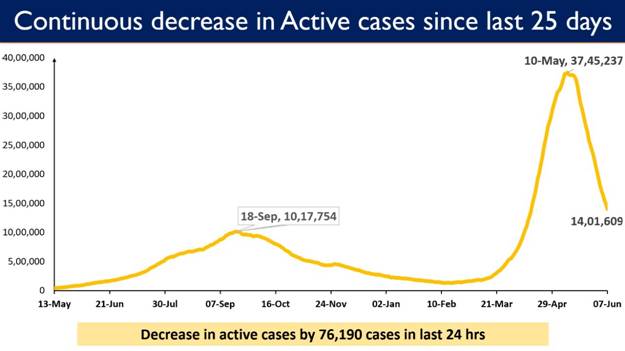 With more people recovering from COVID-19 infection, India's Daily Recoveries continue to outnumber the Daily New Cases for the 25th consecutive day. 1,74,399recoveries were registered in the last 24 hours.