565 NEW COVID CASES, 07 DEATHS IN LAST 24 HOURS IN TRIPURA
Agartala, 13 June : 565 more test positive in Tripura today.
According to the daily Media Bulletin Out of 10,181 samples tested for COVID-19, 565 people found POSITIVE.
610 patients have recovered from Covid 19 today.
07 dead reported in last 24 hours in Tripura due to Covid-19.
India reports 80,834 new COVID19 cases, 1,32,062 patient discharges, and 3,303 deaths in the last 24 hours, as per Union Health Ministry.
India's daily Covid-19 cases remained below the 100,000 for the fifth consecutive day today. The country reported 80,834 new infections on Sunday and 3,303 new deaths, taking the total number of confirmed infections in India to 29,439,989 and deaths to 370,407, according to the Health Ministry.
India has reported 80,834 Daily New Cases in the last 24 hours. The country has recorded less than 1 lakh Daily New Cases for 6 continuous days now. This is a result of sustained and collaborative efforts by the Centre and the States/UTs.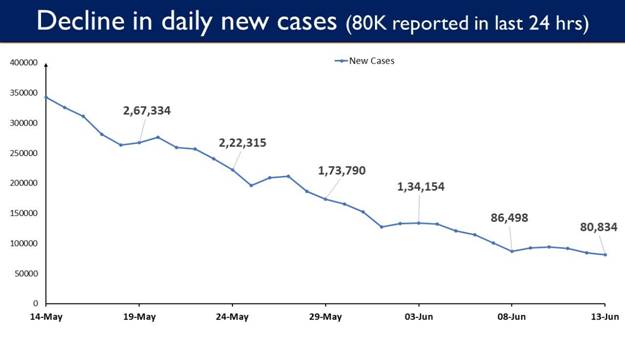 India has been witnessing a continuous fall in the active caseload. The country's Active Caseload today stands at 10,26,159. The Caseload has been below 20 lakhs for thirteen successive days.
A net decline of 54,531 is witnessed in the last 24 hours and active cases are now only 3.49% of the country's total Positive Cases.