Anniversary of the formation of Azad Hind Government by Netaji Subhas Chandra Bose celebrated
The commemorative programs saw participation from INA veterans, school students, local communities and others making a true embodiment of the idea of Jan Bhagidari.
Events organised in several state including Odisha, Manipur, Nagaland.
Home Minister Shri Amit Shah had visited Andaman and Nicobar Islands recently and attended the programs held to commemorate Netaji's close ties with the region.
On the occasion High Commissioner of India, Singapore placed a wreath at the INA Memorial
As part of Amrit Mahotsav celebrations, events have been organized in the run up to and on 21st October in India and South East Asia to commemorate theAnniversary of the formation of Azad Hind Government by Netaji Subhas Chandra Bose. Bringing to life the whole of government approach, Ministry of Culture spearheaded the organization of an integrated program calendar across regions and geographies with participation from various Ministries, States and Union Territories of India.
The commemorative programs saw participation from INA veterans, school students, local communities and others making a true embodiment of the idea of Jan Bhagidari.
Some of key programs held as part of the commemorative initiative are as below:
MANIPUR (MOIRANG)
Moirang in Manipur was the place where the Indian National Army hoisted the Tricolour for the first time on Indian soil on 14 April 1944.INA Family Yatra organised between 19-22nd October. Cultural programs reflecting the native dance forms coupled with songs and reflections of INA ideology was presented. The memorial building was lit up for the special commemoration. A special curation of INA songs by Ministry of Culture recorded at Moirang can be seen here. (Watch here)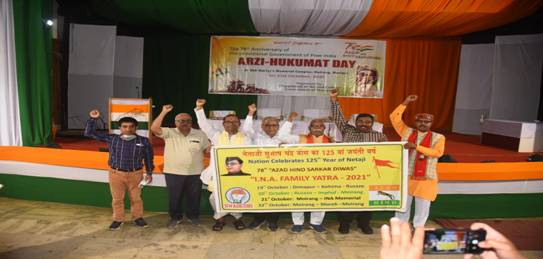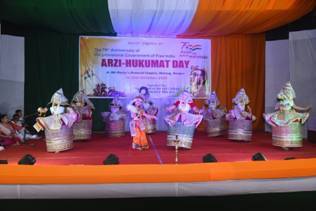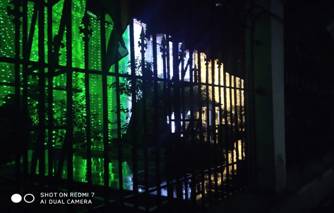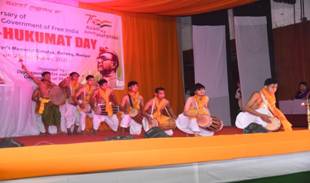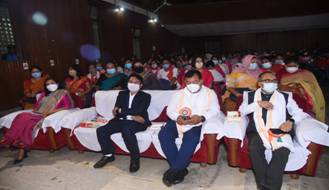 NAGALAND
Cultural program organised by East Zone & North East Zone Cultural Centers of Ministry of Culture, held in Ruzazho village in Nagaland to commemorate the anniversary of the formation of Azad Hind Government. Netaji Subhas Chandra Bose had stayed in this village in the 1940s. Event saw enthusiastic participation of the local community in remembering Netaji and INA's role in the freedom struggle.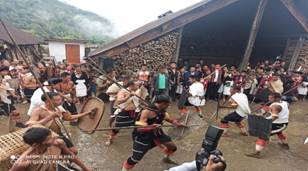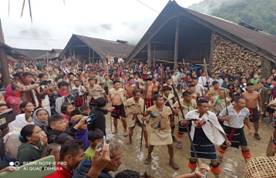 ODISHA
Cuttack was the birth place of Netaji. Events in Odisha included cycle rallies by NCC cadets, seminars of Netaji, exhibitions at the State Museum, Cultural programs, road shows and more.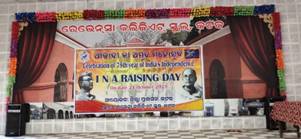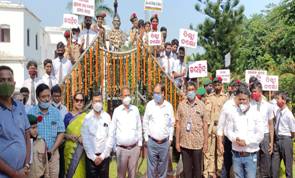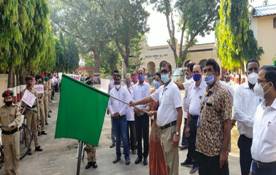 ANDMAN & NICOBAR ISLANDS
Home Minister Shri Amit Shah had visited Andaman and Nicobar Islands recently and attended the programs held to commemorate Netaji's close ties with the region. More details here (https://pib.gov.in/PressReleasePage.)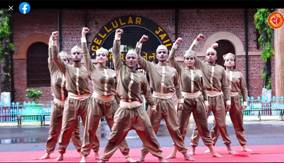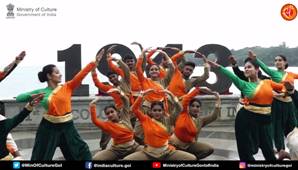 WEST BENGAL
A seminar on Tagore and Netaji's unique relationship wasorganised by the EZCC.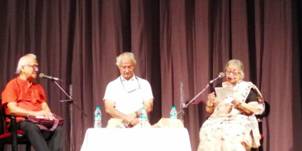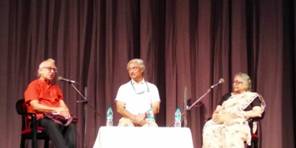 The event also saw the enactment of TasherDesh, a play written by Tagore and dedicated to Netaji. (TasherDesh)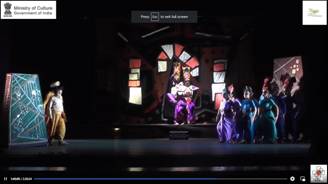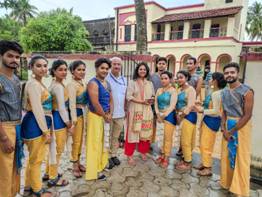 A choreographed dance based performance was specially recorded at Subhas Gram, Kodalia at the ancestral house of Netaji.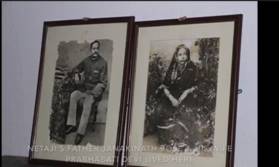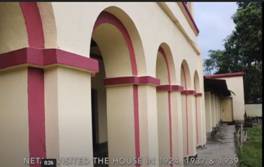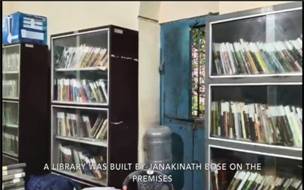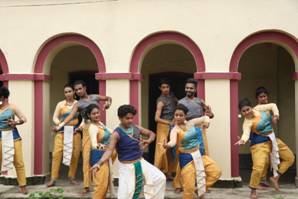 MINISTRY OF CULTURE
Launch of podcast – audio stories 'Zara Yaad
Karo Qurbani' Podcast Trailer
This podcast series is a tribute to the persons and movements that significantly contributed to India's freedom struggle, some of which have not found a place in the conventional freedom movement storyline. As an ode to the sacrifices made, it is only befitting to salute these heroes by recollecting their stories of courage and valour as part of commemorating 75 years of India's independence.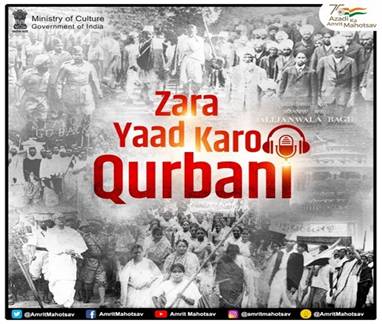 Digital Curation of Netaji Paintings (Netaji Paintings)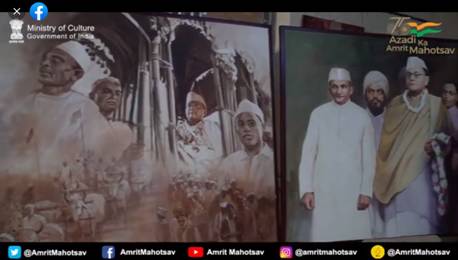 Commemorative Event at Red Fort by ASI (Red Fort Event)
MoS for Culture Shri Arjun Ram Meghwal and &MoS for Culture Smt. MeenakshiLekhi today attended the 78th anniversary ceremony of Azad Hind Sarkar at Red Fort. During the occasion a book titled 'Bose: The Military Dimension: The Military History of INA & Netaji' by General Bakshi , SM, BSM (Retd.) was also released.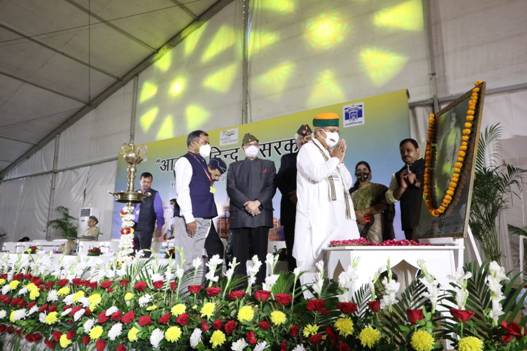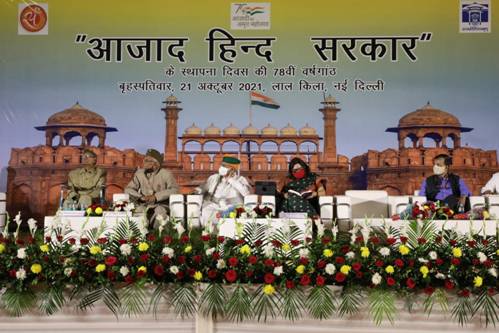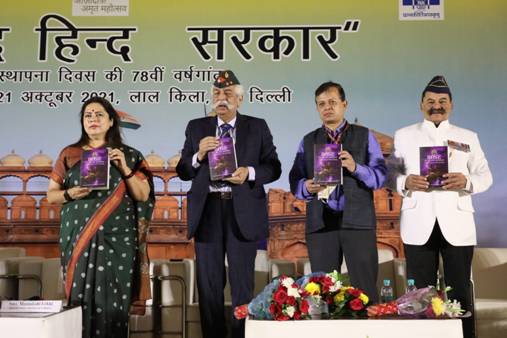 MINISTRY OF EXTERNAL AFFAIRS
Mission held a hybrid event on 18 October 2021 at Royal Selangor Club. The celebrations were held in partnership with the Netaji Service Centre, Netaji Welfare Foundation, Malaysia-India Heritage Group, Malaysian Bengalee Association, KelabRekreasiAbhijaan and the Royal Selangor Club.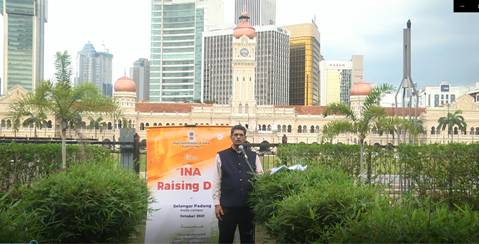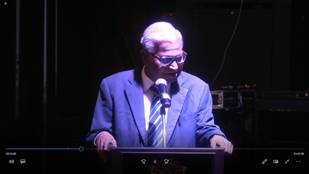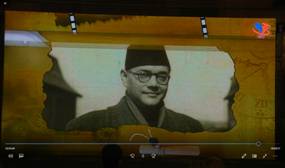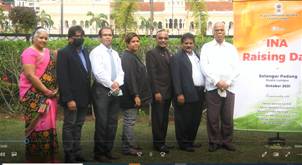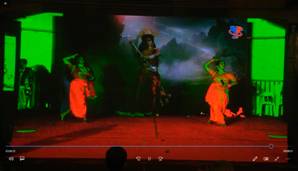 The venue of the celebrations is historically significant, as the Royal Selangor Club is situated adjacent to the Selangor Padang (Dataran Merdeka or Independence Square), from where in September 1943, Netaji Subhash Chandra Bose, in a rousing address to thousands of followers, inspired several youths to join the cause of Indian independence. Key attendees at the event included 4 INA veterans, who also spoke at the event. Excerpts of interviews of other veterans of INA and Rani of Jhansi Regiment who were unable to join the event physically were also played during the function.
High Commissioner of India, Singapore placed a wreath at the INA Memorial. On October 21, 1943 Netaji had announced the formation of the Azad Hind Government which started functioning from Singapore with 11 ministers and eight representatives from the Indian National Army.(Event in Singapore)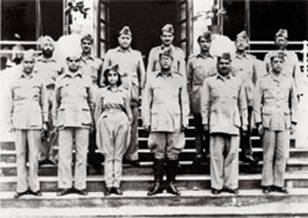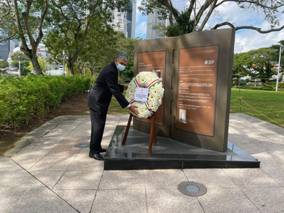 MINISTRY OF EDUCATION
Special assemblies dedicated to Netaji Subhas Chandra Bose was conducted across schools of India. Children dressed up as Netaji and INA personas and also took part in enthusiastically singing the iconic INA marching song KADAM KADAM BADHAYE JAA.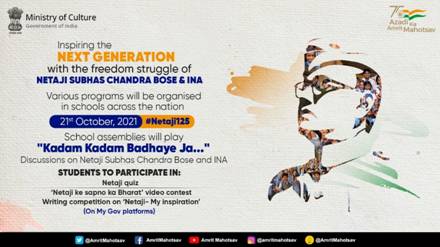 MINISTRY OF TOURISM
A specially curated brochure titled The Legacy of Freedom by the Ministry of Tourism was launched with curated itineraries that cover destinations connected to Netaji Subhas Chandra Bose (Brochure)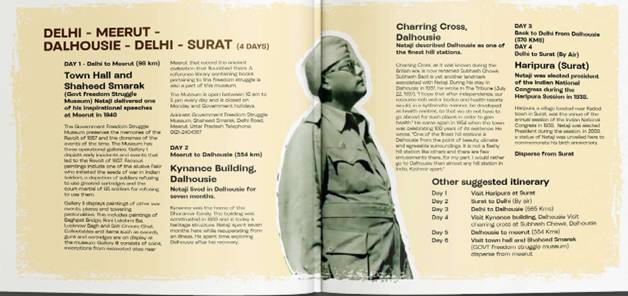 The commemoration of Netaji is an ongoing initiative and will culminate in a grand synthesized event on his birth anniversary on January 23, 2022.